Meet James
Hello, I'm James Spiers, and I am a Professional Realtor® serving primarily Owings, Chesapeake Beach, North Beach, Dunkirk, Huntingtown, Prince Frederick, Lusby, and Solomon's in Calvert County Maryland and Mechanicsville and Leonardtown in Saint Mary's County Maryland. I have been assisting people, helping to buy or sell their home for over 6 years. I am experienced in out of state and military relocations, and I endeavor to provide the best services in the real estate industry. As a dedicated and professional REALTOR®, I am uniquely qualified to counsel you on buying or selling your home. Enthusiasm, knowledge of real estate in the Maryland metropolitan area and deep personal concern for the client's best interests combine to make me the perfect resource for your real estate needs. I work diligently to help buyers and sellers meet their realistic real estate goals.
Testimonials: (excerpts from some of my former clients)
"This process was a rough one, but I never felt like I was alone. Thank you again for all you have done."
Camille M, Silver Spring, MD
"James helped us purchase our first home 2 years ago. We had never gone through the process before and had a lot of questions. James Spiers was always able to answer any of our questions and was available anytime we needed him."
Zeth and Brittany B., Odenton, MD
"I really appreciate all the hard work James did for me and kept me in the loop every step of the way. Thank you, James Spiers, for a job well done."
Helga A., Camp Springs, MD
"James went above and beyond to ensure we were taken care of and now that we are ready to move again we are returning to James to assist us with our next home. Thank you for everything James Spiers."
Angela C., Glen Burnie, MD
I have served the Community for over 20 years as a Volunteer Firefighter/ Emergency Medical Technician (EMT). I further have served my country in the Coast Guard and then the Navy before leaving the military to work as a private contractor for the Federal Government, protecting the employees as a Certified Occupational Safety and Health Specialist. It was during this period that I began working as a part time Realtor® as a second income. I soon realized that advising people on Real Estate was more fulfilling than sitting in an office all day and left the Government to pursue Real Estate Counseling as a full-time career because I love helping people. There is no such thing as can't!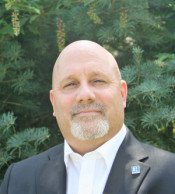 REALTOR®
301-855-7867
240-216-0364
301-423-3073
301-855-8255
10130 Southern MD Boulevard
Dunkirk
,
MD
20754

Download vCard
James Spiers Biography
James Spiers is excited to be joining EXiT 1 STOP Realty in Dunkirk, MD. He services the state of Maryland with a strong knowledge base in Anne Arundel, Prince George's, Charles, Saint Mary's and Calvert Counties. Prior to joining EXiT 1 STOP Realty, James was with Keller Williams Flagship of Maryland in Millersville, MD.
James started his career in 1982 out of high school as a volunteer fire fighter with the Prince Georges County Fire Department and became a life member in 1997. James served in the United States Navy as a Safety Specialist; where he received numerous honors and meritorious awards. He also has a combination of 25 years working in the occupational safety and health field with private industry and Government consulting, serving such agencies as NASA, U.S. Department of Justice and Defense Intelligence Agency.
James is a native of the Washington Metropolitan Area; born at Malcolm Grow Medical Center on Andrews Air Force Base, growing up in Prince George's County, MD and later relocating to Anne Arundel County, MD. Today he lives with his family in Calvert County, MD and enjoys spending time with his family, football, history, being outdoors, and giving back to the community.